Thurman Jones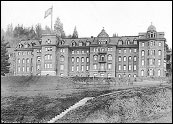 I was raised in Northwest Portland, lived a few blocks far from Chapman grade school back then, moved to the neighborhood with my mother when I was around four or so, back in 1962. My mom's place was located just a few blocks away from Forest Park and Wallace Park. It was a great spot to grow up as a kid; I started attending Chapman grade school when I was six years old, finished up with eighth grade back in 1972.
I had lots of friends at Chapman. I was a pretty popular kid, looking back it was a fine neighborhood; it really was a mixture of wealthy, middle class, and poor kids back then; I was involved with sports, cub scouts, along with singing in the school choir. It was a great school to go attend. There were all walks of life in the neighborhood.
Growing up in the Northwest Portland I was raised as an only child, brought up by my mother, most kids got along with me just fine, I was a pretty good kid, never caused too much trouble back then, there were a few bullies that picked on me when I was a younger, one day a couple of tough kids gave me what was known as a wedgie. Three or four of the bullies ran over and pulled up my underwear from behind my pants and proceeded to tug and stretch the waist band all the way up to the back of my neck; it hurt, it kind of scrunched the trunk if you know what I mean. Nevertheless, for some reason, it was a ritual, part of a mysterious initiation in attending school at Chapman back then. It was almost a golden rule, or a rite of passage; it seems as though you had to receive a wedgie if you wanted to graduate from Chapman. At other times, I was chased by older kids, maybe picked on in the halls, there were times I have to confess that I wished that I had an older brother to help me out at times back then, somebody to look after me in tough situations, a guardian of the flock you might say.
Around that time, I guess I was twelve or so, it must have been when I was in sixth grade; there were a few kids whom I enjoyed more than others back then. There were tough kids who caused trouble that went to Chapman; some came from rough backgrounds, lived in rough areas, down off N.W. Thurman or N.W. Vaughn. They ran around at night, caused mischief; everyone knew who they were. They picked on kids, maybe tripped a poor kid during recess. It was a pretty common practice back then.
One kid whom I always liked, and who kept an eye on me from an early age was a kid by the name of Thurman Jones. Thurman came from a prominent family that lived up in the west hills, up in Kings Heights; his father was in construction, a matter of fact, he owned one of the largest construction companies in Portland at the time. He had a few brothers and sisters, and most of the kids in the neighborhood liked Thurman. He was a fun-loving guy, always went out of his way in saying "Hello" to me. Thurman would watch after me from time to time, stand up for me if I was in a confrontation, he knew who the other bullies were and could lick most of them; he knew the ones that picked on the younger kids; Thurman and his good buddies, including Billy Johnson, Steve Pinkerton, and Pat Jenson, would watch after us from time to time, Thurman was like Robin Hood, Robin Hood and his merry men, it was reassuring, he was kind and like an older brother to me.
Before school most of the kids would play tackle football behind Chapman in the field that's located just west of the school, in the wet rain, we were soon covered with grass stains, you could count on at least twenty kids running in ankle deep mud trying to pull, trip and tackle each other, we usually were covered with dirt from head to toe before school started. Thurman was always on my team, he always watched after the smaller kids back then, he would have been in eighth grade at the time, everybody liked Thurman, and everyone liked him except the bullies that he scared away. During the spring when the weather was better, when the sun was out we'd play softball and tennis baseball in Wallace park. We always clowned around and wrestled, chased after other kids, Thurman's face would turn dark red when he ran around on the big field; he was stocky and loved sports. We'd walk down to Swift Mart and grab a coke or some candy; he was just a great guy. He liked me, and also liked the other kids in the neighborhood, went out of his way in in saying "Hello" during recess or between classes.
He had blonde hair, wore Levi blue jeans and usually wore a surfing shirt or a buttoned down dress shirt to school. He was well liked by all that knew him; I actually think he was elected his seventh grade class president back then, needless to say he was popular.
Thurman would walk up the hill with me after school, walking up N.W. Pettygrove, we'd kick rocks as we headed up the street. Sometimes I'd go up to his house off N.W. Westover road. We'd snatch a few cookies from his mom while she was baking in the kitchen or run up to his room and build model planes or cars. He was involved with all kinds of activities back then, he liked to snow ski and skate board. I skate boarded with him several times when I was younger, when I was around twelve or so, we'd skate down N.W. Westover or skate down N.W. Pettygrove. We had steel wheel skate boards; you could hear us coming from a block away when we flew down the hills back then.
Thurman was well mannered, a nice kid, well behaved, never did anybody any harm that I know of. He had other friends, kids that grew up in the neighborhood that hung with us, kids that went to Chapman. We built forts and tree houses, hiked in Forest park, shot B.B. guns. During the school year, during class breaks Thurman would come over and check up on me, make sure I was O.K. He was the big brother I never had. He was a good friend, I felt safe when he and his buddies were around.
I'd see him at the Uptown Shopping Center, racing slot cars at the local slot car track called the "The Racin' Housin'." Most kids back then had slot cars. "The Racin' Housin'" was located up above one of my favorite restaurants back then, "The Foothill Broiler." All the kids in the neighborhood raced their slot cars there; it was a really popular spot. Thurman and a few friends were usually there on Saturday morning, racing their Ford G.T's or Chevy Chaparrals, the place was jammed with kids yelling and racing their fast cars; it was such a popular place back then.
Thurman liked to ski , in the late 1960's and early 1970s most kids that wanted to go ski up on Mt Hood would take the ski bus that stopped in at Howells Mountain Shop located in the Uptown Shopping Center. They'd gather and wait for the bus to take them to Ski Bowl, it was great fun, Mike skied with his buddies, and I sat with them a few times when I took the bus up to Mt. Hood. I skied with them, made it back to the ski bus and soon we were on our way back to N.W Portland.
At school Thurman would weave through the hall, he'd go out of his way to find me and let me know that he and a bunch of the guys were going to go to a Portland Beaver baseball game one Saturday afternoon, I tagged along. We sat in the left field bleachers and ate snow cones and yelled and laughed. We got Cotton Nash's autograph (a famous Portland Beaver baseball player back then), we talked with Luis Tiant, who went on to pitch for the Boston Red Sox.
Once in a blue moon a bunch of the kids would go to the Esquire Theater and watch a movie on a Friday night. It was fun, the theater sat on the corner of N.W. 23rd and Kearney. We knew the girls that operated the ticket office, they went to school with us; they let us in for free. We watched the Sand Pebbles with Steve McQueen if I remember right. It was great fun.
Right around the early 1970's or so the board of directors with the old St. Vincent hospital decided that they would close the big old dilapidated hospital, they decided they would shut the doors for good, the historic old hospital was then located on N.W. Westover, it was built in 1896. It was a huge building, made of red brick, sat on five acres of prime land up in the hills of Northwest Portland; plans were soon being made in building a new hospital up on N.W. Barnes road.
They closed the old hospital; they shut the doors and put a big, tall cyclone fence around the land. Doors and windows were boarded up, driveways were chained up. The old hospital sat there for years, vacant, it was a big hospital, it used to be so busy, busy with doctors, patients, nurses and maintenance men scurrying about walking the grounds, it had a few wings that stretched out to the north and south, everything was locked tight, it was eerie in a way, movers, haulers and state officials grabbed all the furniture and big metal files that sat in the empty offices, medical machines were moved off the property, equipment was auctioned off.
I soon found out through certain friends that Thurman's father had bought the land that the old hospital sat on; he had plans to tear the old hospital down and build condos on the valuable property. His dad had developed big projects in the Portland area through the years, the old hospital sat there empty, a big dark skeleton; it was around the summer of 1971.
I went to California at the end of the school year that year, went to visit my dad for a couple of months. I usually stayed with my father and step mother during the summers, it was fun to get out of town and see the sights of San Francisco. I came back to Portland right before the school year; I was going into seventh grade around that time.
When I got home I called my friends, ran down to Wallace Park, there was Thurman, he would be going to Lincoln that fall starting his freshmen year. We talked and chatted, it was near the end of August. Thurman told me about the plans his father had in tearing down the old hospital, they had architectural drawings done, most of the rooms in the hospital were empty by then, there were old fire escapes attached to the side of the brick walls. An old red brick smoke stack rose high in the air sticking out like a sore thumb.
A few weeks before school was to start that fall I saw Thurman down at Henry Thieles, a famous old popular restaurant located on N.W. Burnside and N.W. 23rd. Thurman was with his family, they were having breakfast, he waved as my mother, and I sat down at one of the booths. He came over and introduced himself to my mother. My mother always liked Thurman.
A few days later I was down at Wallace Park playing with my buddies, playing tennis baseball in the basketball courts. Soon one of the kids that usually played with us at Wallace Park, a kid by the name of Dan Upshaw came running towards us; he had tears in his eyes, we couldn't understand him at first, I couldn't figure out why he was crying, we had to calm him down. He looked at us.
"Thurman! Thurman! Thurman! He, he fell, he's dead!"
All my friends looked at each other in disbelief. A state of panic went through the air.
"What! What are you saying Dan! What are you talking about?" I exclaimed.
I started to get mad, I started to tense up, I looked down towards the ground and shook my head. Other kids ran over to hear the news. Some kids started to cry. I couldn't believe it.
Dan ran off, he ran across the grassy field of Wallace Park over towards some other kids standing over by one of the big trees that line the park, whimpering as he ran. Everyone looked at one another and started to walk away.
I shook my head, and looked around, I looked to the skies, and I took off for home. I kept telling myself it couldn't be, that it had to be somebody else. I waited for my mother to get home. I sat there and couldn't believe the news. I was in shock, I had just seen Thurman the day before, he was in the park with some friends of his, he was with Billy Johnson, Steve Pinkerton, and Pat Jenson, they were hanging around playing, they had planned on cruising around that night, they liked to explore like most kids. They were going to meet later in the evening and cruse through the west hills that night.
I called a good friend of mine; he was good friends with Thurman's older brother. I tried to find out what happened to Thurman the night before; I wanted to find out if it was true in what I had heard. My buddies' voice started to break up, he cleared his voice.
"Grant, Thurman has died, he's gone, he fell, he was up at the old hospital with some friends, he was with Billy, Steve, and Pat, they were exploring around in the old hospital, they were up on the seventh floor, he fell off of an old fire escape, it gave way, it wasn't attached to the building properly. He fell and landed in the old parking lot."
I couldn't hear myself think, I hung up the phone and ran into my bedroom, jumped up in my bed and cried, buried myself in the pillow. Thurman had been a friend of mine, lived a few blocks away from me, he was gone in an instant. The next day I walked down to Wallace Park, kids were in the park, some of them were still in shock over what had happened to Thurman.
A few days later a good friend of Thurman's (Billy Johnson) told me what happened. He went into detail in what exactly did happen that terrible night. He sobbed as he told the story.
Thurman, Billy, Steve, and Pat had met at Wallace Park early in the evening that night and quickly decided to go up to Thurman's dad's house, they decided to get flash lights that sat in his father's garage, they rummaged around in his father's office and found one of the key chains that opened the old hospital. They wanted to cruise around the old boarded up building, they planned to go up and check out the rooms, look at the operating tables and old laboratories. The hospital was dark and dank. The Jones home wasn't located more than a few blocks away from the old St. Vincent. They started off and hiked over to the hospital. They laughed and joked along the way.
They ran through bushes and climbed over an old fence near the hospital, they walked over to a door located on the main level of the hospital, off the old parking lot. Thurman tried a few keys attached to the old key ring, soon the door was opened. Two or three of the boys walked into a deep dark hallway, Thurman followed them, shining his flashlight in helping find the way. They crept around, stumbling, laughing, they climbed the stairs heading up to seventh floor. They joked and clowned around; they opened the door leading them to the dark hallway up on the seventh floor. They ran over to a room located on the north side of the seventh floor, big windows faced out toward the north, they could see the lights of the Montgomery Ward building, could see the cars below on N.W. Westover as they passed below. Thurman tried to open a window that led to a small metal porch connected to an old beaten up fire escape, they pried the window open, there was just enough room for one person on the porch, they thought it'd be cool to scramble down the scaffolding, circle down the fire escape and explore each floor, they'd be able to get to the ground floor in no time. It was getting late; it was dark that summer night.
Thurman decided he'd go down the fire escape first, after all he knew the old hospital the best out of any of the kids; he'd scramble down and wave to his other friends when he had reached the ground floor. He stood out on the small perch, waved to his friends, he started to climb down to the next floor, the fire escape was attached to a huge wall of bricks, you could see certain areas that were loose with the bricks, some of the bolts had come out from the mortar, suddenly, without warning the metal steps attached to the fire escape popped loose, the scaffolding bent and shifted, rattled and detached from the wall, Thurman grabbed on to a metal hand rail, suddenly other areas of the scaffolding started to pop loose, it shifted violently, twisting and turning, it started to detach itself off the brick wall, you could hear the metal snap and pop off the wall, it started to slowly fall down the side of the old hospital, Thurman fell, twisting and turning, the force threw him all kinds of directions, it took him down to the cement parking lot below, he was trapped and was wound up in the heap of twisted metal, it feel with a thud, he was eaten up in the metal scrap, thrown violently and landed on his head, he died instantly.
His friends were up on the seventh floor, they watched in horror as Thurman fell almost seven floors in a matter of seconds, they leaned out the window, screamed for Thurman; he lay motionless on the cold concrete parking lot. His friends yelled and started to panic, Steve and Bill ran down the stairs, Pat stayed on the seventh floor, he was afraid to leave. They cried, running in a panic, Thurman lied in the twisted metal, mangled from the fall, the boys rushed down to his side.
"He's dead! Oh my god!"
They panicked and cried, they became confused and angry.
"What are we going to do, what are we going to do! Thurman, oh my god!"
They looked around, nobody had heard the crash, and nobody had seen the fall. They looked up at their buddy on the seventh floor; they waved to Pat, motioning for him to come down.
"Get down here, let's get out of here!"
Soon they were running back to Thurman's house. They had to tell his folks. They ran and stumbled through their tears. They rang the doorbell of Thurman's families home, they were sobbing. Thurman's mom answered the door; she could tell something was wrong. She looked at the boys.
"Where's Thurman! Where's my son, where's my Thurman!" she asked.
They proceeded to tell her what happened, she screamed, started crying and ran upstairs, yelling for her husband. The boys waited and told Mr. Jones of the news. He rushed to the phone in calling for an ambulance.
Police were called in, they drove up to the hospital and found Thurman, his body was twisted in the metal, an ambulance rushed him off to the hospital, and he was pronounced dead upon arrival. He died at fourteen; it would have been early fall of 1971. There was a memorial at school, my mother sent in a contribution to the family, we mourned his passing. Life moved forward. All of us were saddened, it was terrible.
The Jones family took their sons passing pretty hard needless to say, the old hospital stood there for years, it stood there vacant bordered up for almost twenty years to be exact, and I don't think they could come to grips with their loss. Weeds and trees wound around the building, ivy crawled up the side of the brick walls, and the old rusty cyclone fence surrounded the hospital. I walked by the hospital on my way home almost every day while I was in high school, I don't think there wasn't a day that passed when I didn't think of Thurman and his family. The family didn't do anything with the land all those years, it sat there; the loss of their son had devastated them. It was like an old haunted memorial.
Around 1990 construction workers drove their trucks up to the fence and started to remove the ratty old metal fence; they walked around the hospital and tore the wooden boards off the windows. Big cranes were set up and soon they started to knock the hospital down, they demolished it in a couple of weeks, and the old towering smoke stack came falling down in a heap. They bulldozed the entire hospital, huge dump trucks were loaded up with brick and rubble, and tractors leveled the landscape, within a month or so there was nothing left of the old hospital.
They put that old cyclone fence back up for a few more years, the long tall weeds popped up out of the ground. The Jones let the land sit for a few more years.
Through the years I always hoped that the Jones would build a community center on the land, Northwest Portland always needed an aquatic park; it would have been a perfect location. Name it after Thurman in memorial. A few years passed and then one day, trucks and trailers arrived, they started building foundations, constructing frames, the workers kept building, within a few years or so condominiums were put in, the condominiums stretched out over the Jones land, parking stales were put in.
Soon modern condominiums stretched on both sides the hill on N.W. Westover. They sold for a good deal of money; money talks, nothing was left of the old hospital. People bought the condos, it was around 1996.
I often think of Thurman, think of the times spent, how he looked over me as a friend, he was a mentor to me, his fall was terrible, and he died so young. I'll always miss Thurman.