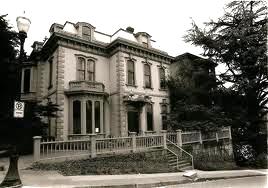 Eric Ladd
I graduated from Lincoln High School in 1976, attended school at the University of Oregon located in Eugene. I was nineteen at the time, came home that summer looking for work. I had a few buddies by the name of Smitty Parnelli, Ron Ronstien and Orson Bartlett that were hired in moving antiques and hauling away furniture from several homes that were owned up near the Vista Bridge around that time, they were doing various chores for the owner of the properties, his estate stretched out along the N.E. side of the hill; dropping down to S.W. Jefferson, his land covered most of the hillside.
I visited with my chums that summer, talked with the owner of the property, tried to explain that I needed a work; he scratched his chin, looked at me and soon I was offered a job. The land was owned by a well-known entrepreneur, aristocrat, and socialite by the name of Eric Ladd. Eric was active in Portland, articles were written in the Oregonian about his projects, he was well known for historic preservation in the Portland area, he was a social debutant. He lived in the world of high society.
During the late 1950's and early 1960's Eric had purchased old historical homes that had been built in and around Portland, many of the dwellings had been targeted for demolition. He bought and moved several of these landmarks up along his hillside located at S.W. Jefferson and S.W. 20th, He painstakingly placed them alongside of what now is known as "The Goose Hollow", Eric strategically placed them on his land, organizing them to follow the landscape of his hill.
One prized home was the old Lincoln House, built in the early 1920's, it was a replica of the old Lincoln home built in Kentucky in the 1800's. He also bought the Kamm house which was built in the 1880's, the original Kamm house sat on the land that now is inhabited by Lincoln High School. The Kamm house was built by Captain Jacob Kamm a famous old sea captain, his home was a jewel in the Portland area, it sat up overlooking what is now the football field at the high school. Eric bought rare antiques and furniture, gold leafed mantels and pillars, elaborate mirrors. Anything with historic value Eric usually would buy it.
Eric Ladd was a bit of a mystery to most people in Portland, many people had seen him or maybe even spoke with him, but generally he lived a life of recluse. I had heard many stories about Eric, heard he was born in Portland, went to high school in the City of Roses, I heard rumors that he changed his name to Ladd, taking on the name of the famous Ladd's edition located off S.E. Hawthorn.
Back in the 1950's Mr. Ladd was one of the leaders in stopping the demolition of the famous Pittock Mansion located up in N.W. Portland. Back in the late 1950's or so some city leaders formed a group in trying to get the city to tear down the historic landmark, Eric Ladd formed his own group, including several architects with the intent of stopping the removal, he believed in historical preservation, within a year or two Eric helped save the Pittock Mansion from the wrecking ball, city council put a stop to the plans that had been made in tearing down this historic building. My friend Smitty;s father (Alex Parnelli, a local architect) was involved in one of Erik Ladd's committees that put a stop with the demolition.
From around 1958 to 1962 Mr. Ladd actively worked in trying to make his small community along the hillside prosper. It consisted of business offices, shops and restaurants. It was billed in the Oregonian at the time as "The Old Portland Colony", it actually had old gas lit lamp posts that ran along the sidewalks. He built a little village in this area, the first of its kind. It was a shire in away. It would have been 1958 or so. His idea did pretty well for a few years, Eric was a visionary, and he wanted to restore old Portland and bring it to life. He bought two homes up off of S.W. Market, on the south side of the Vista Bridge. They eventually would become his homes, a place where he could hang his hat, he stored his prized antiques, beautiful carvings and furniture in the basements of these homes that over looked his village. Eric was a rogue in a way, had grand ideas in shaping Portland.
"The Old Portland Colony" didn't do as well as Eric had hoped, by 1966 or so he boarded up his homes, the businesses left, old vines, overgrown trees and brush grew in and around the property, by 1976 or so his dream had become a convenient place to hang out and smoke or sneak a beer, it had become an eerie place, his old homes became worn, dilapidated, neglected a ghost town in a way.
By 1976 Eric had decided to move all his antiques out of his buildings, he wanted to find someone that could help him clear out the furniture, and valuables that he stored in the "The Old Portland Colony" His plans were to eventually sell the property. He asked my friend Smitty's father (Alex Parnelli) if he knew of anybody that could help him, my friend's father mentioned his son and a few of his buddies in giving Mr. Ladd a hand in clearing his land that summer.
Mr. Ladd hired three of my friends, including myself in starting the huge project that lasted for almost a couple of months; it was hard work, really hard work. We lifted tables and chairs, bars, end tables, lights, chandeliers, boxes, books, huge columns and statues. We loaded up U-Haul trucks with almost everything he had stored for nearly fifteen years, it was a tiring project.
Eric was pleased with the work that we did, could see we were hard workers. Within a few weeks he asked us to clear off his land for him; we would have work for at least the rest of the summer going into fall that year, he wanted us to get rid of old shrubs, trees, blackberries and weeds that have taken over his property. It was a huge chore; it took us a couple months to complete. He wanted us to thin off the lush habitat that surrounded his holdings. He had plans to sell "The Old Portland Colony" when we were finished, eventually he did sell the homes and sold his land associated with the historic project, he even sold the two homes that he lived in up on S.W. Market and soon moved into and developed one of the first great condo and historical preservation projects down on N.W. 21st and Couch in the early 1980's. He turned old apartments into a great renovation project, transforming the property, moving in his antiques and resurrecting the great old brick structure with his elaborate ornaments and knick knacks.
That summer that I worked with my buddies on Eric's property was hard, physical work, we used chain saws and hatchets and axes to fall trees and bushes that climbed up the steep hill to the Vista Bridge. We had dump boxes and an old truck to help haul away the debris.
We were clearing off the land back around the Lincoln House one hot boiling summer day; we usually would meet in the morning, get our tools and start working. Around lunch time or so we went over to the Goose Hollow Inn to grab a sandwich for lunch, we ate our tasty Reuben's and walked across S.W. Jefferson, back over to the Lincoln House.
You have to understand that this land was really overgrown, the Lincoln House had a fairly large courtyard in the back of the property, it was in bad repair, and you could barely see it. In the middle of the courtyard was an area for entertaining, a large tiled patio, weeds and ivy were overgrown dropping down into the lot. We were poking around, trying to find a good place to start our afternoon work. The Lincoln House was a real chore; you had to watch where you stepped, or you might fall down into old foundations that were covered up, it included a small driveway leading into the courtyard. Old branches and rhododendrons ran a muck.
Suddenly Orson started to giggle, looked at me and waved me over to where he was standing, Smitty and I hurried over to Orson who was peeking through an opening in an old stone fence that surrounded the courtyard, we could see into the courtyard clear as could be, we could hear noise, what sounded like branches russlin' and twigs snappin'. There in the middle of the overgrown patio was a beautiful girl, maybe around twenty or so, modeling, sitting on a brand new shiny silver chopper motorcycle, striking up a provocative pose, an old van was parked off the back road, the doors were open and two long 2 x 6's were laid out in the back of the back bumper in helping wheel the shiny motorcycle out of the truck, she was barely wearing a tiny black bikini, well-endowed wearing black high heels, she seemed to be showing off her features pretty well, she was tall, had shapely legs, long brown hair, busy posing for the photographer who was clicking away with his camera while his assistant held flashes and lights.
We laughed and peeked at them for a good minute or two, Ron Ronstien started to howl with laughter. We tried to get him to stop laughing, begging him to be quiet, shortly the photographer and his assistant came walking over to the ivy covered fence that we hid behind, we poked out of the bushes and smiled, the model in the bikini looked mad, she stomped over to the van and grabbed a robe, she looked perturbed.
The photographer was wearing jeans and a worn t-shirt; he had a beard and looked like Jerry Garcia, his assistant had long hair, wore worn shorts and a t-shirt, held a flash in his hand. We tried to wipe the smirks off of our faces, Orson laughed.
"What are you kids doing here!" barked the photographer. We looked at him, stepped back a bit in not knowing for sure what he and his assistant were going to do to us.
"We, we, well we're clearing out the land for Mr. Eric Ladd! He owns this property," shouted my friend Smitty. He looked at us and then looked at his shapely, upset, snittie model.
"Oh don't worry honey baby, these boys will be gone shortly, just relax, things will be fine, and why don't you put on some of that pretty red lush lipstick you have? You look wonderful you're a goddess, you're a princess a true angel!"
She looked agitated as we stood there. We had never seen a scantily dressed girl sitting on a chopper on the Lincoln House property before, it was a bit of a surprise.
"My names Jeff, my assistant here is Harold, we're shooting photographs for a major, major, heavy duty major motorcycle magazine, and Peaches Lature here is modeling one of the new choppers for our shoot. You turds should get lost. Doesn't she look great boys, a real honey if there ever was one! We felt that this location was perfect; do you think Mr. Ladd will get mad at us for shooting this here, we will only be here a few minutes more?" He chewed on a cigar as we kept looking at Peaches.
My friend Orson looked at the photographer and asked, "So you're not doing a shoot for Calvin Klein?" We laughed.
"You know we just don't see this kind of thing very often in this part of the woods, " said Ron.
"We thought you might have been a couple of raccoons in heet, or maybe shooting a Twisted Sister video," I jokingly said.
"I thought you may have been doing a Felinni film," replied Smitty.
His assistant started to laugh; Peaches looked disgusted, and acted like she had a bee in her bonnet, she looked away.
We looked at each other and shrugged our shoulders, we were dirty, covered with blackberries and leaves, and we kept laughing and continued to stare at Ms. Lature. My friend Smitty started to wink at the voluptuous young girl; she looked at us in anger and made a face. Jeff walked over to the chopper and pointed to the flash units, his assistant fiddled with the gadgets, Peaches took her robe off and climbed on the shiny chopper. Jeff started to shoot as his assistant held the lights. Smitty, Orson and Ron just smiled as I giggled. Within a fifteen minutes or so they finished their shoot, rolled the chopper into their van and drove off, Peaches flipped us the bird as they drove off.
Eric eventually sold the homes and his property, developers restored the buildings, and they now house lawyers and businesses in the area. Eric Ladd wound up living in his condominium project down on N.W. 21st, he passed away in the mid-2000.
I'll never forget Eric Ladd; he was part of another time in history while growing up here in Portland. He helped bring historical preservation to Portland, I think he was a bit ahead of his time, matter of fact I know he was. I think he'd be surprised in what has happened to the Goose Hollow over the years. It now has light rail, new buildings run along S.W. Jefferson. I was glad to have met and worked with one of Portland's original visionaries. We never told him about the encounter with the motorcycle photographer, his assistant and peaches Lature, I think he may have found it to be a funny story