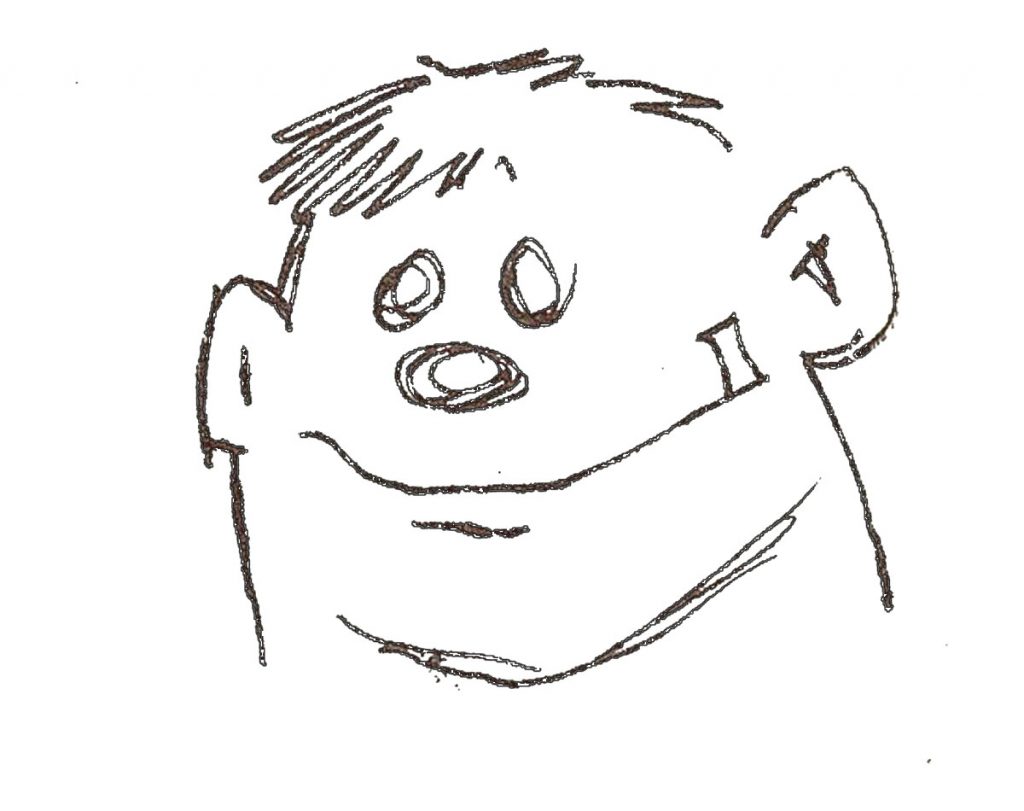 Hutch
He might be riding the Greyhound bus out of Portland, working in a steel mill, on a midnight flier singing like a summer breeze……
It was a sunny warm fall morning. I met Ben Hutchinson in Eugene, Oregon in the fall of 1978. He was the first one to greet me when I moved. He was really kind. He removed his hat and shook my hand.  "Glad to meet you Grant!"
He was a member of the Sigma Chi house on East 18th when I first ran into him. Hutch was an old nickname handed down through the years from friends and family. I always liked Ben and his background with literature. He reminded me of a young Mark Twain, a young Woody Guthrie, and a young Zane Gray.
Ben and I went for rides out in the country in his beat up yellow Datsun pickup truck. I was nineteen at the time. We'd go for a hike up along the Umpqua River. We'd talk politics, sports, and woman. We'd drive to Reedsport, stay a few hours on the beach, and head back east to Eugene. We'd laugh and tell jokes. Everybody loved Hutch. He could talk with the best of them, was pretty funny, and a joker back then, and he loved comedy. He'd quote scenes from the movie "Young Frankenstein." "Let's go to my house and have sponge cake!" yelled Ben one night while we were at a party. People laughed.
He'd wrestle with you if he had too much to drink. Hutch stood around 5' feet 8". He was Irish. He played baseball and football at Lake Oswego High School in the late 1970's. He had fair skin and brown hair and a wry wit. Ben went to University of Oregon to study journalism and advertising in 1977. He was a good looking buck with a stocky upper build. His mother was a senator from Lake Oswego, Oregon. Judy Hutchinson was her name. She was a big influence in Ben's life. He loved his mother very much.
We would sit around campfires with friends and sing songs. He loved to pat you on the back. He loved "Little Smokey" Viennese hot dogs. He'd go to Tom's Market and grab a quart of Miller on Friday afternoon. We'd meet up and drift over to Taylor's to listen to music. Late at night, we'd hop on the roof of the fraternity and watch the stars. It was great fun. He liked to wander off to explore once in a while. He reminded me of a hobbit.
Ben lived in the Sigma Chi house for a couple of years. He sat on council with the Sigma Chi and was involved with student government with the University of Oregon. He was busy and popular.
He once jumped on a train heading to Medford, Oregon and called me six hours later. "Grant, I'm in Medford," Ben laughed.
"What are you doing in Medford?" I replied.
"I thought I'd hop the train down and take in the countryside!"
"You're a nut Hutch!" A couple of the guys in the house went to pick him up.
He loved John Steinbeck, the land, and was romantic about life. He had a way of telling stories. Ben was proud of being an American. He was one of the extras in the movie "Animal House" filmed in Eugene. He reminded me of a leprechaun and of Jiminy Cricket.
Ben was in a band back then. They sang at local parties and performed a couple of times at the Vets Club. There were four members in the band, a bass guitarist, lead guitarist, drummer, and Hutch. He was the leading vocalist and played harmonica. They had a following locally playing Chet Atkins songs.
In his junior year of school, he got accepted in an exchange program with University of Boston. He moved to Massachusetts and took in the history and culture of the east coast.
When he graduated from college, Ben went to San Francisco to work with one of the largest advertising firms in San Francisco. He worked with McCann Erickson in the creative department. He lived off of Broadway in a small apartment. Hutch lived there until the mid-1980's. We'd go to see the Giants play. Ben loved sports. He told me stories about playing baseball at Lake Oswego High School and catching passes thrown by Neil Lomax when he played football in high school. He decided to move up to Portland around 1986. We always kept in touch.
Old man Jim Hutchinson, Ben's Father, was a staunch Republican. He sat on city council in Lake Oswego. He and Ben would feud once in a while. I found out that Mr. Hutchinson had slapped around his wife when Ben was a kid. He watched the fights between his parents. They had monumental battles, usually over politics and drinking. Ben always sided with his mother. Harsh words were spoken.
I caught up with Ben around 1985. We decided to meet at the Goose Hollow Inn. The place was full and we were having a hoot that night. A couple of girls sat down at one of the booths near the table that Ben and I were sitting at. One of the girls wrote down her phone number on a back of some matches and threw them at Ben. I could tell they had made a connection. Hutch started a conversation with a gal by the name of Elaine Butler. She had gone to high school at St. Mary's Academy in downtown Portland. She came from a well-to-do family in the Portland area. "Well, hello there ma'am," Ben said.
"Hello there yourself," said Elaine. She had graduated from the University of Oregon that spring. Elaine was about 5' 6". She was really, really cute. I could see why Ben wanted to get to know her. They talked and talked into the night. I didn't want to be a leaky faucet so I left. I called Ben the next day. He went on and on about Elaine. He had fallen in love. They dated for around a year and decided to get married around 1986. Hutch asked me to be a groomsman in his wedding.
Elaine Butler and Ben Hutchinson got married. The wedding and reception were beautiful. We had a great time that night. They we're the perfect couple. They soon bought a small condo and a few years later they had a couple of kids, Richard and Sandra, about a year or two apart with age. When I visited them, the kids were about ten years old. They had a happy life. I kept in touch every so often, then we drifted apart for about ten years. The years rolled on.
I received a phone call in April of 2007. It was Hutch. He was living in Wilsonville, Oregon. He was working for a golf supply company. He called me to let me know that his father, old man Jim Hutchinson was dying. We talked for about a month and a half each night until finally his father passed. I tried to brace him with his dad dying. He was taking it hard.
I soon found out that Hutch had been in and out of hospitals through the last three or four years and was living in motels from time to time. He complained about chest pains, debts he owed, and not having any money. I also found out that Ben had a drinking problem. He drank to hide the past and the pain in his life. In my conversations with Ben, he told me of what had happened in the last ten years of his life.
He told me how he loved Elaine and his kids. He'd drink when we were younger and I never noticed that he had any problems with alcohol back then. When I first met Ben we'd get together and have a few beers. Hutch would be the life of the party. The way he was built it didn't take much for him to get a bit tipsy after a few drinks.  He'd tell funny jokes, was light hearted and loved to laugh. Ben usually wore a Callaway golf cap on his head. He'd straighten up, look at you and ask, "Where's your coffee hat? Is it coffee time yet?" It would always make me laugh. He'd stick out his chin and bend his elbows out and do a little jig. It was so funny. He was a character.
Around 1996, Elaine started to complain about headaches. Hutch took her to a brain specialist up at the Oregon Health and Science University. The doctor in charge examined her and found a tumor in her brain. It would have to be removed. The family was devastated. Elaine would have to have brain surgery.
He held her hand the day of the operation and was by her side when they put her under the anesthesia. About an hour later, Elaine had a stroke on the operating table. Her entire right side of her body became paralyzed. It must have been terrible. Upon further investigation they found that the doctor was at fault while performing the operation and that he had caused the stroke. Ben Hutchinson sued the doctor. The doctor was found guilty and Ben and Elaine won almost one million dollars from the settlement.
Once Elaine was well enough to leave the hospital she came back to their home in the southwest hills of Portland and tried to raise the kids. Her stroke left her unable to do simple tasks. Hutch watched Elaine fall down the basement stairs of their house several times. While standing on the sidewalk waiting for her bus one day she was hit broad side. She received bruises. Elaine drank trying to hide her pain and so did Ben. They eventually divorced. Elaine moved in with her parents and the kids were granted custody to their mother. Ben was given visitations with the kids. He lost his job at the time of their divorce. He soon received a D.U.I. one night after drinking downtown. A year or two later, Elaine died from complications from the stroke. Everyone cried. Hutch had lost his wife and his kids and his life was spiraling out of control.
He told me that his mother died around spring of 1998. It compounded things. He took her loss very hard. I was sorry for her loss. Elaine's parents wouldn't allow Ben to have visitation rights with his children.
Richard, Hutch's son went on to play wide receiver on his high school football team. They went all the way to the state final game his senior year. His daughter Sandra went on to be a varsity cheerleader for Oregon State University. He was so proud of his children. You could see the pride in his face. His son was a natural athlete. I saw three or four of his sons games his senior year. He was a spark plug for the team.
When Elaine walked out on Ben, he was left with the home. Ben sold the house and bought the old family house in Lake Oswego. His father moved in with Ben. Hutch lived with his father for about a year or so. Old man Hutchinson went on to meet a woman twenty years younger than him a few months after moving into the old home and they got married. They soon sold the old family home and bought a home in Oregon City. They asked Ben to move out. Ben had sold his house to buy his father the old family home, investing most of his money into making sure his father was taken care of financially in the later years of his life.
Before his dad died, Ben assured me he was going to get an inheritance from his father. I told him a month before his dad died to check and make sure that he had everything set in his father's will. They had a fight about the will. Doors were slammed. Words were said. His dad died two weeks later. When the will was read, Ben learned that he received about $2000 from his father's estate. He was completely devastated. Because of the fights with his father over the estate and his stepmother and due to fights over the way his father treated Ben's mother, old man Jim Hutchinson had left Ben hardly anything. It was his way at getting back at his son for fighting with him all those years. Ben went on a bender for about a month after his dad died. He hid in motel rooms, wandered, and reflected on his father's death. His father had left him penniless.
He tried to confront his stepmother over the estate. She wouldn't talk to him. He got a lawyer to look at the will and see if he could do anything about his inheritance. It went back and forth between his lawyers and his stepmother's lawyer. She conceded to pay him another $2000. Ben became angry and went on another bender. He gave up with trying to settle the estate legally.
A month later I got a call from a mutual friend. He was calling me from St. Vincent Hospital. Ben had checked in and was in a terrible mess. He was drunk and coming off of a bender. "Nurse, is he going to be okay?" I replied
"He's been drinking," she said "He's drunk."
Jack Dorsey had been a lifelong friend of Ben. He was at the hospital that day. He made an offer to take in and watch after Ben. He tried to help Hutch straighten up. No drinking, a clean room, and daily meals would be provided. It worked for a while until Ben wanted to be on his own. His debt piled up. He wandered from motel to motel all throughout Portland. I last heard he had wandered down to Salem.
I haven't heard from Hutch in a few years. Nobody knows where he is for sure. I hope he's okay. I hope he finds strength. He had friends that tried to help him. He lost his wife to a brain tumor, lost custody of his children, lost his job, lost his mother, went through hell with his father before he died, and went through a terrible spell with his stepmother over the family estate.  He was left nothing. I can remember Ben crying when his father died.
Note: Hutch died of a stroke in the summer of 2011. I found out that he was dying a few days before his death; I was with him up until the end. I found out that a kind woman took him in when he was on the streets, when he was running and hiding from his pain. At the funeral his girlfriend wanted me to let people know that she had been abused by her former boyfriend before meeting Ben. She wanted people to know that Ben restored her belief in finding someone loving, caring, and understanding. I thought and laughed to myself, Ben had seen abuse as a child growing up, his parents used to have knock down drag out fights when he was little, and naturally he found someone that needed help. God bless his soul.