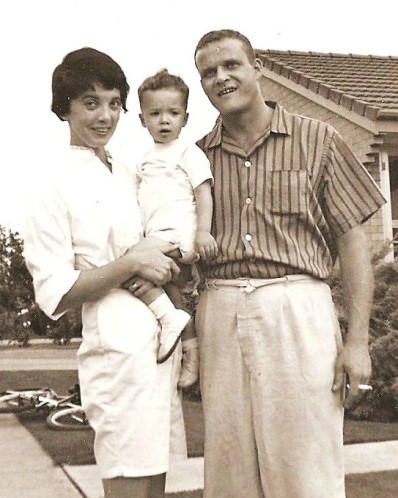 My Father Mr. U.S.A.
My relatives loved the United States very much. My grandfather served in the Navy and I think that he passed down a deep love for his country to his sons. I'm proud of my father's relatives. My grandpa, grandma, father, and uncle are buried at Golden Gate cemetery in Daly City, California. It has been called the Arlington of the west: white gravestones roll through the hills as far as your eye can see.
My father, Glen Allen Keltner, was born in Glen Ellen, Illinois. Born January 18th, 1930, he was the third of four children born to Cecilia and Harold Keltner. Grandpa was a contractor, building homes in the Chicago area. My grandma was a housewife, working full-time raising the kids. She was born in Indiana. My grandpa was from the Oklahoma territory.
Dad was active as a young boy. He loved the outdoors and sports. Growing up as a child, my father had a divine loyalty to his father. He would help my grandpa whenever he could. Giving him a hand with chores, he was my grandpa's shadow.
In 1936, my grandpa decided to move to Oregon. He had friends that had moved to Oregon, telling him how wonderful the state was. He looked into selling off his home in Glen Ellen so he could buy acreage east of Portland in a small town called Gresham. He would leave the cold winters in Illinois for the cold wet weather in the Columbia River Gorge. They packed everything in their cars and trucks and headed west. Through the rain, mud, and snow, they migrated to Oregon.
My grandpa bought close to fifty acres in Oregon, mainly farmland. His idea was to farm the land, raise his family and then subdivide the land. He would build homes on his property, then sell the homes. It was a good plan.
Dad loved Oregon. It was big. The land was lush and it had an abundance of wildlife, some of the best hunting and fishing in the country. As a young boy, my father loved to fish with friends on the Sandy and Clackamas Rivers. At times, my father would come home with enough salmon to feed the entire family for weeks.
The farmland was fertile. My grandpa planted almost every kind of fruit and vegetable that you could imagine. They had cows for milk and horses to pull the plows. Chickens and geese roamed the land. My father was up early every morning milking the cows and feeding the animals. Dogs and cats ran through the farm; he loved the farm. He enjoyed the fact that the family lived off the land. They made their own butter and preserves and sold fruits and vegetables to the locals. Grandpa started to build homes on his land a few years later, subdividing his land, and building homes one at a time. His business was doing well.
My grandpa and grandma had four children. There was Harold, Dorothy, Glenn, and Bob. Harold was the oldest son. He worked very hard on the farm. He also worked in one of the local lumber mills while he was in high school to make extra money. He loved track and field. Harold was one of the best runners in the state in his day. While in high school, he met his future wife, Diane. They decided once they graduated from high school, they would go to the University of Oregon in Eugene, Oregon. It was 1940.
My aunt Dorothy was a gifted artist who also attended the University of Oregon. She studied painting, sculpture and architecture. She met her husband, Bob, while attending the University. Dorothy and Bob had two daughters, Pam and Dana. Dorothy still lives in Medford, Oregon. She continues to sell and show her work.
In 1941 the war broke out and Harold enlisted in the army. Stationed in the Pacific, he fought in the Philippines. He faced some horrific battles, once having his Jeep overturn due to heavy fire. When he returned from the war, he started to work with Hyster Corporation in Portland. He raised two children, Steven and Kim.
By this time, my father was getting noticed for his athletic accomplishments while attending high school. He worked on the farm, always helping my grandpa. He was going into his senior year of high school and was selected as an Oregon All-State athlete in football and basketball. He also competed in track and field. He received several scholarships from colleges up and down the west coast for his athletic accomplishments. It was 1949 when he decided to attend the University of Oregon.
My father loved athletics, loved to compete. His favorite sport was golf, and he played as often as he could. He was a scratch golfer and deep down I think he always wanted to be a professional golfer. In the family home there are photographs of him golfing, illustrations of golfers, and scorecards from courses he played. The scorecards were from Pebble Beach, San Francisco Country Club, and Los Angeles Country Club. He watched golf all the time on the television.
He also followed football. The Chicago Bears, San Francisco 49ers, and the Oakland Raiders were some of his favorite teams. He enjoyed baseball as well, rooting for the Chicago White Sox, the San Francisco Giants and the Oakland Athletics. He loved basketball. I remember going to Giant and Dodger games at Candlestick Park with him.
Uncle Bob was the youngest child in the family. Bob attended Gresham High School where he played football, and went to the University of Oregon. He was drafted into the Air Force while in college and served in Berlin, Germany. He worked in special operations through Air Force intelligence. Bob served as a spy for the U.S. Air Force. I remember many stories late at night where he detailed how he killed people during his tour of duty in Berlin. He was really close to my father; they were best friends.
The Korean War broke out in 1950. My father was a freshman at the University of Oregon, on scholarship with football. His freshman year, he played wide receiver. He loved Eugene, studying business and management. His future was in front of him. He was pretty happy.
His sophomore year, dad was drafted into the army. He would serve in Korea. I think he was devastated. He was just getting use to college life. He loved sports and he wouldn't be able to compete for Oregon. This was a terrible disappointment to my father. He looked forward to playing football and finishing school. He would now serve a hitch in the Army.
He served in Korea from 1951 to 1954. He was selected to become a sergeant, head of a mortar platoon. They were sent to the front line, the 36th parallel. Under constant fire, dad had accidentally had his platoon blown up by friendly fire. While calling in coordinates, the men in charge of the artillery miscalculated the positions. Three of his men were torn in two, one landing on top of my father.
In the Korean War, close to 54,000 men died in the four year conflict. This war saw intense air and artillery fire. He saw action on the front line and he was also in charge of the prisoners of war. The army would gather up large groups of captured men and my father's platoon was in charge of watching the prisoners. He visited most of the cities in Korea, including trips to Japan. Most of the G.I.'s out of Korea were given passes to Japan.
Dad faced heavy fire in Korea and saw several of his men die. He was a very proud man. He came from the old school. A man didn't show emotion, didn't cry, and kept things to himself. He loved John Wayne, Johnny Cash, and Dixieland Jazz.
He started smoking in Korea. The US military would pass out free cigarettes to the enlisted men. He got addicted to smoking and this haunted him through his entire life. I wish he never started.
Back in the 1950's there was no Post Traumatic Shock Disorder, a condition that several men faced during heavy combat in World War I, World War II, and the Korean War. The army never recognized this condition until the Vietnam War. My father was diagnosed with this condition when he arrived back in the states in 1954. My grandma found him a few times in the middle of the night huddled in the corner of his bedroom, half asleep, shaking, and scared. This carried on for at least three or four years after his return from Korea. My mother experienced his condition the first few years that they were married. The sad thing with the Korean veterans was that they never were truly recognized in Oregon for their efforts. It took almost forty years before a memorial was dedicated to these men.
Dad enrolled at Lewis and Clark Business College and finished up his degree, then worked part time for United Airlines. This is where he met my mother. My mother was working as a ticket agent with United Airlines. They fell in love and married. My grandpa Keltner built them a home and I was born in 1958. Dad and mom loved their home, a large traditional, on almost an acre of land. I can remember dad going pheasant hunting in the field out back of our yard. He loved to hunt and he had the luxury of having pheasants and ducks in the back of the house.
He moved up to working in sales with Sunshine Dairy and eventually with Hyster Corporation. I can remember Dad taking me on his rounds through the northwest. He would visit mills and lumber yards in Oregon, Washington, and Northern California. He wanted me to see the land, to meet the people that he worked with. He was really proud of me and wanted me to be included in his life.
My mother and father lived on a dead end street in Gresham, Oregon. A rural setting with fields, ponds and streams surrounding the home. Apple orchards sat on one side of the house.  I think mom really liked Portland better. She was a city girl and didn't like the country life that much.
One of my mother's friends back then was Jean Saunders. Jean had two boys my age; we grew up together as little kids. She was married to Fred Saunders. Fred's father owned Saunders Chevrolet, the largest car dealership in Gresham. Fred and my dad were friends as kids and the Saunders actually had their home built by my grandfather. They lived right across the street from my mother and father.
Jean would confide in Mom. They became good friends. I was around three one night when Mom got together with Jean. "Shirley, I think Fred is having an affair," replied Jean.
Mom didn't know what to say. "Jean, are you sure?" Mother asked. Jean went on to tell mom of the things she had found out about Fred. It looked like he was indeed having an affair. Mom didn't know what to do about the problem. She knew Jean would drink from time to time and she also knew that she took medications. Jean was terribly upset and mom was worried about her mental wellbeing. This continued for a while and mom tried to do everything she could do for her.
One night, Mom got home and there was an ambulance parked out front of the Saunders home. Jean had overdosed. She was pronounced dead on the scene. Mom was beside herself. She had lost one of her best friends. This upset her deeply and to this day, she has a hard time with her death. Fred went on to marry the woman he had been seeing behind Jean's back.
A few months later, around the time that I was four years old, I came down with a terrible disease, a rare blood disease that caused a great deal of stress in my parent's marriage. After being sick for several days my mother finally took me to the hospital, saving my life. My parents fought over whether or not I should be taken to the hospital. This finally led to my parents' divorce in 1962, when I was four years old. I remember the pain with the divorce. I loved my parents so much. My mother moved out of the house to a small apartment in Northwest Portland. My parents went through a bitter divorce. Finally, the courts appointed me to my mother. It was 1962 and my mother was a single woman trying to raise a son.
My dad took the divorce pretty hard. He loved me very much. He fought my mother tooth and nail in the courts for the rights to raise me. He lost. He had the home, but it must have been empty when mother and I left. He had his family to see him through the loss.
Within a few years, dad started to date a girl that he met by the name of Janet Shumway. Janet was twenty when she met Dad. He must have been close to thirty at the time. They courted for a while and finally, they decided to marry in 1963. I was five at the time. Dad and Jan married and moved to San Jose, California. They decided that they would leave Oregon behind. Dad received a transfer to work with Hyster and be the sales rep for the Bay area. Everything was set.
They lived in San Jose on Saratoga Avenue, near a town by the name of Los Gatos, California. It was a beautiful spot. Back in 1964, San Jose was all orange groves as far as the eye could see. The smell of orange blossoms permeated the air. It was a great place to live. Wide open fields and wildlife was bountiful. My father was given visitation rights by the courts. I would visit him twice a year, once during the summer for a few months and again for two weeks during Christmas. It was great as a kid, the best of both worlds.
My stepmother was a Paralegal, working with one of the bigger law firms in the area. Dad worked in San Jose. At first, it took time to get accustomed to my dad and stepmother being married. Looking back, Jan was good to me, treating me like I was one of her own. She was very active. She liked to ski, hike, camp, golf. My father loved her very much.
They bought a car in 1964, a new Ford Mustang. It was a fire engine red convertible with black interior. A great car, we still have it in the family and it was Dad's pride and joy. He would go to Santa Cruz and San Francisco in the car; it was an eye catcher for sure. I can remember California in 1965. Big American cars roamed the streets. Mustangs, Camaros, GTO's, Nova's, and Firebirds roared up and down the streets. It was a classic time in the car industry. The hippie era had started in San Francisco.
I loved visiting my dad and stepmother. They were so active in their lives. We would go to Lake Tahoe to snow ski, water ski on the Sacramento Delta, and visit friends and family all around California. I really learned to appreciate California. It's so big. It rolls on and on. The trails and byways take you to ranches, orchards, and big wide open places. We would camp in the Sierras, Yosemite, and the northern coast. It was great. I think I developed a deep appreciation for the land through my father and stepmother.
Around 1969, I found out that dad was going to stop working with Hyster. My stepmother's father owned a franchise with a restaurant out of Los Angeles called Shakey's Pizza. My step grandfather had convinced my father to open and own a franchise in the Bay area. He had done very well with his restaurant in southern California. They decided to break ground with a new franchise in a town called Fremont, California. In looking back on this decision, I felt it was one of the worst choices my father ever made. The location was bad. Fremont was growing. It was rural, located close to wide open golden fields that stretched out for miles. Deer, hawks, rabbits, and hawks covered the land.
The restaurant didn't do well. Jan was working for a law firm out of San Jose and Dad was working insane hours in the restaurant. He would leave around 9:00 a.m. and get home around 1:00 a.m. He worked so hard to make the place work. It was a great plan but the wrong spot for the business. They should have put the restaurant in San Jose or San Francisco. They had good crowds at times but by 1972 the restaurant was sold. Dad started to drink. I wished he'd never stopped working with Hyster. I always thought my Dad's true talents were in sales and management. He was good at it. He had a really funny personality when he was in a good mood.  He could attract people like a magnet. It was one of the best things about him. He knew how to make people laugh.
Dad started to drink more than he should have when I was about fourteen. I didn't see it at first and then it crept into my life. He was unhappy. He was unhappy about leaving Hyster, the restaurant failing, and finding out that his wife had been having an affair. Yes, Jan was seeing another man. It hit him like a ton of bricks. She was having her affair with one of the lawyers in her firm.
It must have crushed my father. I could remember the year he stepped down from Hyster. I know he was pressured to go into the restaurant business. My step grandfather had a lot of money and was funding my father and stepmother at times. My dad saw the money made with the restaurant in Los Angeles, but it failed in Fremont.
My stepmother was very independent. Why did she have the affair? Maybe she knew dad was drinking more than ever. Maybe she knew they were wrong to open a restaurant. They were unhappy. I wish she hadn't made this decision to have the affair. It caused so much damage in my father's life; I felt sorry for him.
By the time 1974 rolled around, my father and stepmother were on the verge of breaking up. It was sad and I begged for them to stay together. They were good for each other. Through friends and family, they agreed to work through their differences and move forward in the marriage. It was a roller coaster ride for about two years.
They moved to Foster City, California in 1974. They got a place overlooking the water. Foster City is famous for sailing and it's close to San Mateo, California. Dad was starting over in his life and was back working in sales with Hyster. He was lucky he got the job. My uncle Harold helped him out.
Jan quit her job with the law firm in San Jose and started to work in the law department with Hughes Aircraft Corporation. She was always a hard worker, smart. She moved up through law firms in the Bay Area and with Hughes, becoming one of the top legal aids with the company. I liked Jan a lot. She was young, fun and I thought she was one of the best friends I ever had. I started to learn about forgiveness.
Dad continued to drink. It got bad at times. He couldn't let the hurt from the affair go; he couldn't put it in the past. He used his drinking as revenge for the things my stepmother did with her lawyer friend. He tried to hurt her through the alcohol. I wish my father had looked into getting help for his problem earlier. I remember how embarrassed I was with his drinking. He didn't care about anything. He eventually lost his job with Hyster around 1977. It was a sad time. Dad worked in sales with a few other companies up to 1985. The drinking got in the way of him doing well in his life.
He was sad with his drinking, happy at times, and then he would turn mean. He would skip dinner and go through three or four scotches a night. You could see his sadness. He would stay up late, not waking up until late in the morning. It really bothered me. He would show up drunk at events and family outings. I don't know why my father and stepmother stuck together. I could tell they weren't happy. It was sad. Everything seemed so bleak. My stepmother saved my father's life, looking back. I don't think he had any place to go during this time. He had painted himself into a pretty dark corner.
Around 1977, Nathan, my brother, was born. Out of the blue, Nathan appeared. Jan was close to forty when she had Nathan. It was the one thing that helped resolve some of my father's demons and problems with drinking. I think Nathan was the best thing for my father's life.
My father and stepmother decided to buy a home in Half Moon Bay, California. It was a great spot near the beach, big and open. It had views of the ocean from the back deck. The coastal hills rolled into the backyard. The sea breeze, birds and wildlife flourished. I think the intention of my father and stepmother of buying the home was to keep the family together. Nathan was about two when they moved in.
Dad and Jan raised Nathan. My stepmother continued with Hughes Corporation. Dad took on the responsibility of watching over Nathan, getting him to school, getting him to do chores, getting him to play classical piano, and getting him to study. He would watch over Nathan the rest of his life. My father was Mr. Mom. Eventually, Jan became so good at her job that she was offered a position with Franklin Templeton, one of the largest investment companies in the world. She now works in the legal department. She has done well for herself.
Growing up, Nathan was a really cute kid. It was strange to have a new brother at the age of twenty. He had red hair and looked like a little pumpkin. He had a dad that was an alcoholic. It was hard on him, I'm sure. Nathan was always a smart kid. He got a lot of attention as a kid. My parents loved Nathan very much. I did as well. I tried to teach him about art, photography, the environment, and tried to help him through his pain with Dad's problems with alcohol. Nathan got a lot of love from my father. From the day he was born up until my father's death, Nathan always received my father's love.
Due to the smoking, alcohol, and heartache, my father had his first heart attack in 1978. They cracked his chest, cleaned out his arteries, and sewed him back together. After surgery, my father tried to recover from his set back. The doctors warned him about smoking and drinking. He had to make better choices in his life. I would visit my father, but not for too long. We would usually get in a fight over his smoking or drinking. The fights would continue on for almost ten years. It was my war with my father. At times it felt like a marathon. I spent many nights trying to talk with him about his problems.
He continued to help raise Nathan. Nathan graduated with a 3.8 grade point average out of high school. He went on to attend college at the University of California at Davis. He graduated in International Business. Dad would be very proud of him.
Around 1992, Dad had his second heart attack. While recovering from his second heart attack, he suffered a stroke a few years later. Complications followed. After two years of being bed-ridden, my father died at the age of 64. He looked like he was 90.
I can't tell you how many times I fought with my father over smoking and drinking. His problems were fueled by what he experienced and suffered in Korea, a bad first marriage and divorce, losing the chance to play collegiate football, being involved in a bitter custody battle, watching a business that failed, and finding out that his second wife had cheated on him. I think my dad had enough of his hell. I think he had been hurt so many times that he said "to hell with it". I think he wanted to check out.
My father should have received help through the V.A. after he came back from the Korean War. He should have stopped smoking the cigarettes the military gave him. He should have stopped drinking. He loved his country very much. He worked hard in his life and loved his family. I wish he had lived longer. Dad died about a week before Nathan graduated from high school in 1996. We buried him in the Golden Gate cemetery in Daly City, California. God rest his soul.
It's sad what war, disappointment in business, and the loss of love will do to a human being. Some people have greater strength with adversity and loss. My father stopped drinking when he was sixty. The last four years that he was alive I tried to make up with him for words said, for anger for the way he treated my mother, and for the way he treated those that loved him. I wish I could have known him better.